What our tables offer that is far superior to the competition:

1.) Aluminum construction - won't warp like wood tables.

2.) Brass details - won't snap fine details like plastic parts

3.) Best auto indexing system with over 8,000 positional points to program your whisker tracks

No more trying to make track plan fit table track spacing (ie. 5, 7.5 ,10 or 15 degrees)

4.) Small footprint of tables due to construction with aluminum, (No need for huge square top of plywood) plus underside mounting with our mounting tabs.

5.) Most customers can install table in about an hour and be running trains

6.) Easy lift out of bridge with one wire disconnect. Great for when building layout, nothing to damage during construction!
---
Place your orders early before we fill our trailer!
Give us a call and we can process your order for York.
716-830-5267
---
See our Ads in
Here is what professional layout builder Scott Anderson had to say about our turntables:
" The finest O scale turntables you will find! We have two on the DWP and are very pleased with the look and performance."
Satisfied Millhouse Customers !
We have customers in USA, Hawaii, Canada, England , Germany, Austria, Norway & Australia
Note: We Do Not Sell our detail brass castings or Bogies as separate sale items except for our pipe railing stanchions
Also if you purchase one of our tables on secondary market, make sure you get all of the detail castings as all our turntables come with all details
and we will NOT sell them because the one you purchased second hand didn't come with them.
last updated 2/5/2017
---
O scale Turntables available in 24, 26,28,30,32 & 34" ( 2 or 3 rail )
with Industrial Belt Drive train for Smooth Operation!
**Our mounting tabs are set 1.5" down from top of pit wall, allowing for up to 3/4" of plywood and up to 3/4" of soundboard or foam on top of that.
If less is needed you can just shim the difference or use a double nut method when mounting to layout. All turntable sizes only need a 1/2" larger hole than bridge size.
Example a 34" turntable only needs a 34.5" hole in the layout.**
**We also offer our turntables in S scale Contact us if you need one of these.
We also offer the following additional custom size turntables - 26", 30" & 32" see ordering instructions on our ordering page **
Take a Look at what goes into our Turntables
**We offer our turntables with different bridge configurations allowing modelers options to match the railroad they model**
The photos below show the various styles from our standard version to our more road specific models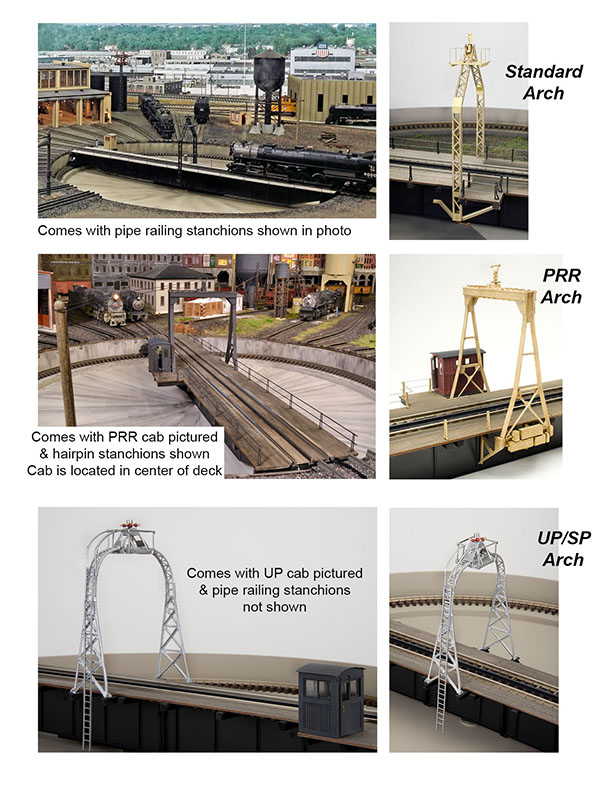 Our 34" Turntable will handle the Biggest of your locomotives.......
Scale Big Boy's, Allegany's , AB or AA Diesel units & even a Scale Pennsy S1 ( weighing 30 lbs) seen below!
Left photo shows our turntable with included detail parts installed. Photo on right shows how the turntable ships. Deck is stained, pit painted & track installed & wired.
Photo below shows turntables lower support, cog gear, motor & integrated motor mount
Below are a few photos of our water-jetted aluminum bogies with brass details
Brass Pipe Railing Stanchions - (now come on our standard turntable & UP/SP models)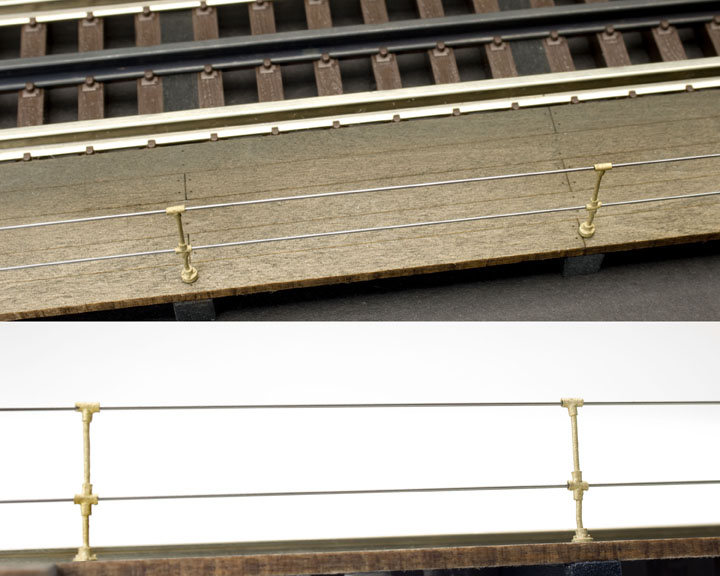 Left photo of 3 Rail Track & Deck Right photo of 2 Rail Track & Deck
Shown below are available options for your turntable.
Optional Weathering of Turntable pit & bridge deck - $100.00
Photo below shows the different finishes that can be done to our turntables .
Weathering of pit & Bridge Decking ( Give your turntable the in service look, with custom weathering)
Optional choice of Laser cut cab with LED light for additional $35.00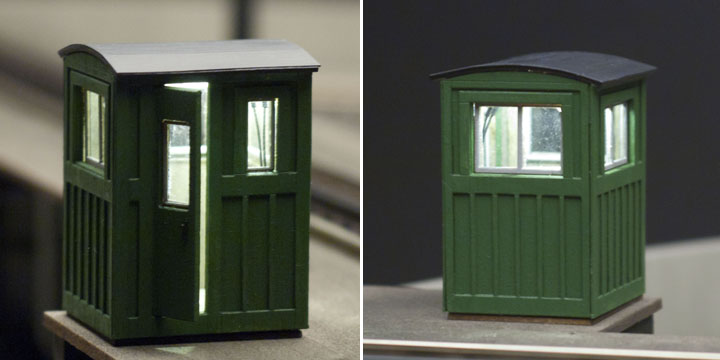 A couple of videos from Eric's Trains video train blog of replacing an Atlas turntable and installing and operating our turntable
This 24" turntable also has our auto indexing system.
Episodes 44 & 45
Here is a video of a customers 3R PRR Turntable with our auto indexing
The following power supply we recommend for use with our turntable for manual control, if you don't already have a 12VDC variable power supply.
This power supply is not necessary if you opt for our auto indexed tables
Railpower 1300 DC Transformer made by MRC

---
Auto Indexing for Turntables & Transfer Tables Now Available & TMCC compatible
Our indexing system allows you to place your surrounding whisker tracks to the turntable wherever you need to. This is unlike other systems where you have to make your layout tracks lineup with predetermined degree spacing of tracks (ie. 7.5, 10 or 15 degrees) With our system we use a quadrature encoder which lets our system know the exact position within the 360 degrees of the pit. On our largest turntable (34") this within 1/64 of an inch. On our smaller tables this accuracy is even greater. Within the 360 degrees there are 8,191 encoder positions to align to. This is relevant when setting up your track positions.
With this precise system we are able to build speed steps in the operation of our table to give a more realistic operation. The bridge, speed when starting out, will begin movement as a creep speed, move onto slow speed, continue onto medium and then a fast. Depending on the distance needed to travel to the track selected, the bridge will speed up in predetermined increments. The longer the distance it travels the faster it will eventually get before it reaches its destination track. During its journey to its next track, it will speed up until it hits the halfway point of its predetermined path at which point it will begin to slow down. All operations and programming of tracks is done through the keypad.
Photo below shows our indexing system upgrade kit . System can be powered by your existing 12VDC transformer or an optional 12VDC power adapter. We now offer a stainless steel keypad faceplate that allows easy mounting of our keypad to your layout fascia or control panel. You can also use it to mount the keypad into a gray plastic double electrical gang box, like found at Home Depot or Lowes
Our auto indexing now works with Lionel TMCC so that you can run our indexer with either the Cab 1 or Cab 2 remote and in the future the
(Call for details on how to connect to TMCC)
For those wishing to install the keypad into a box. The holes in faceplate are made to fit a weather double gangbox found at Home Depot or Lowe's etc.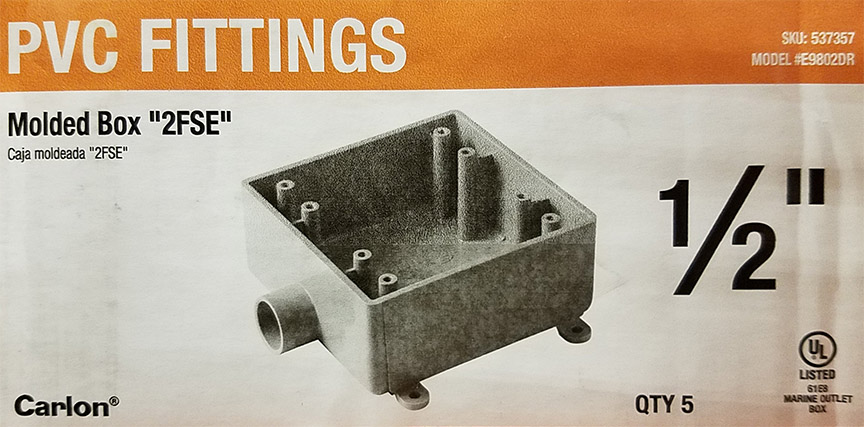 ---
Transfer table
Bridge length is 28"
(Bridge will accommodate all scale diesel engines & scale passenger cars like prototypes were used)
These have aluminum construction & brass pipe railing stanchions , prototypical correct pit depth & bridge deck with multiple rails in pit bottom, Laser cut deck & cab
Same smooth drive as our turntables for reliable operation
Photograph of real Transfer table we used for reference for our model
Photograph of Production unit below
Transfer table can allow for 5 - 7 tracks on each side of table depending on track spacing
Can be operated manually (line up by eye) or with our auto indexing system for the most realistic operation, simulating the drum controller speed steps like the prototype.
The mounting tabs are 1.5" down from top of pit wall to top of tab to allow for different thickness of layout top materials.
Dimensions 24 7/16"(W) x 28 3/4"(L) x 6"(D)
Photo of Laser cut cab & deck details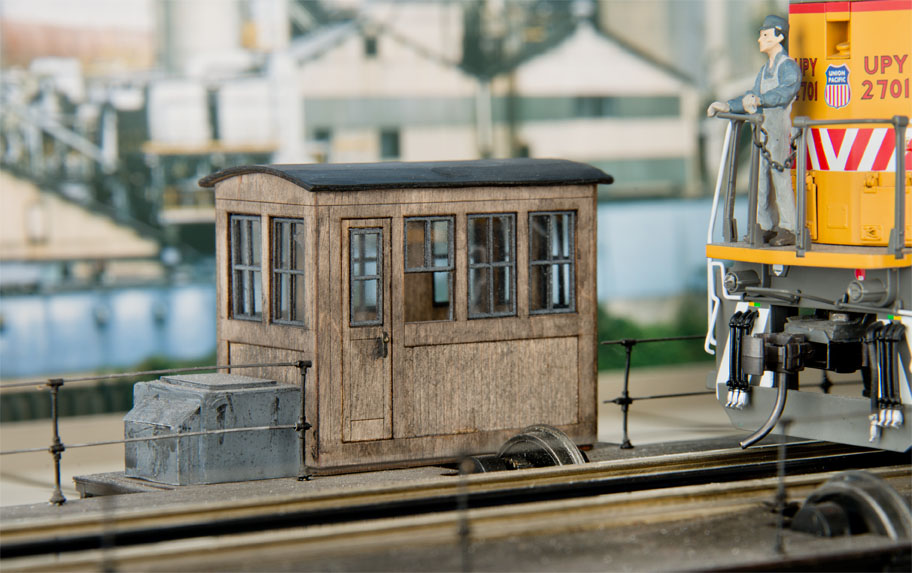 See demo video of it and our transfer table in action below. This also has our index system installed.
---
Systems will be available for sale starting in October. Beta testing is being done currently.
Finally, there is a simple way to add realism to your layout! It doesn't matter the size, scale or whether it is a small home layout or in a large museum. LTAC ( Layout Time Animation
Control) allows the user to add animation / automation control to their layout. From simply controlling relays, to triggering anything from animation accessories, LTAC does the job! LTAC
plays sounds and uses the X-10 home automation control to automate room lighting so that you can have automatic changing of time from day to night on the layout. Best of all, the system can
be as simple or complex as the user wishes. Millhouse River Studios wanted to design a system that doesn't require advanced knowledge of computers to use. The system is
programmed by creating a basic text document. You simply type out your commands in the text document, like seen in (Fig. 1), save that text file, and, with our software and programmer, load
that text file. The program puts your commands into our hardware to control your devices. Commands can also be more complex, as seen in (Fig. 2).
The system has several components to it (Fig. 3) . The main heart to the system is our LTAC controller module and controller base. The controller module is removable from the base.
Once it is installed on your layout and wired to whatever you are controlling, if you decide you want to change your programmed sequence you can easily unplug it from the base. You then
plug it into the programmer, load the new time sequence, then reinstall it back on the layout. The system also has the ability to have two different controller modules programmed with two
totally different scenarios on each. It is convenient and easy to swap them out as you like. LTAC works two different ways. First, the system can play the programmed sequence and
then repeat. LTAC can also work with the master time clock for the layout and the events you programmed are driven by the time of day on the layout. In this time driven method, the time
clock runs as a fast clock, allowing the user to set the time compression for 24 hours to pass on the layout. For instance, you may have visitors over to see and/or run trains on your layout.
LTAC allows you to run a 24 hour day over the course of just an hour or maybe 2 days in an hour. The time compression is up to you. It can automatically play and trigger anything from the
room lights dimming and brightening to the building and street lights turning on and off automatically. It is all based on what you have programmed for each controller module. Small
time displays are also available that can be placed around the layout or in buildings ( for O scale) for quick reference of time.
Eventually, LTAC sound modules will be available that you can load sound files onto that will work with the system to automatically play your sounds based on the time of day. Imagine
that factory whistle that sounds at lunch time, a dog barking, crickets chirping at night or the bustle of street traffic in the city. You can program your sounds for the specific time of day you
want them to play, leading to a more realistic sound experience. Rather than having to push buttons or flip switches to make things happen on the layout, now it can be automated so that
you can concentrate on running trains and let LTAC handle creating the lifelike realism of the layout. All of our LTAC boards can be linked together with the modular communication cords or
they can be run as stand alone devices. Extender boards are also available (see Fig. 3). These boards have multiple functions . They can be used as a simple way to tie in all those
switches and buttons that you use to trigger devices on the layout . This lets you add these into the LTAC system. These boards can also be used in conjunction
with our relay boards to expand the system up to 8 relays. Another advanced feature to our extender boards is that it can use the switch or button inputs to trigger
a LTAC sequence of events. For instance, a lift bridge could be driven by an infrared sensor that is triggered when a train approaches the bridge.
It would then start a sequence of events such as sounding a horn, triggering a set of bridge lights to flash, and then playing a sound file of motors lifting the bridge.
Only your imagination is the limit of what you can do. The LTAC controller modules allow for hundreds of events to be programmed into each
module, each with a customized trigger time. Since the system is modular you can have as many or as few parts of the system hooked up to your layout.
Our goal at Millhouse River Studios is to have a affordable system that is as simple as the end user needs it to be.
The Millhouse River Studios base system package includes our software and USB programmer, a controller module with base, an X-10 controller and two of our 4 relay boards for $279.99 (Fig4).
If you do not wish to control room lighting, the system is available without the X-10 controller for $270.00
The X-10 controller allows you to send your time commands to UL listed X-10 devices such as dimmers, or outlets that you would purchase from home stores or online that
would replace your layout room light switches.
Video demo of skyscraper model with lights on all 14 floors controlled by LTAC
---
Now Offering Track Screws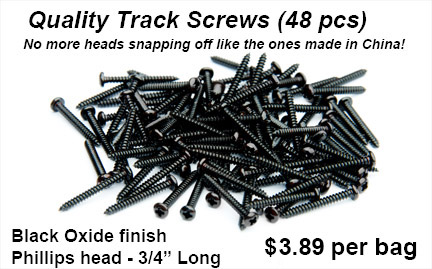 Here are a few professional layout builders who use our products
(Click Here) to see what people are saying about our turntables on
Customer post on OGR (10/3/2011) about making his turntable into an access hatch ( Click Here )
---
We stand behind all our products and are here to serve our customers
---
All Images except for recommended products are © Studio Z Photography 2009-2016
Clipart courtesy FCIT