In an effort of getting our countries economy back to pre COVID times. We will be continuing our FREE shipping on our
Turntables, Transfer Tables & Rotary Coal Dumpers. This is only applies to orders within the Continental US.
This is a savings of up to $150 depending on where you live.
The Eastern Division Board of Directors has announced that the York Train Show in October 2020 is cancelled.
This has been a difficult decision, but due to the ongoing COVID pandemic and concern for the safety of others,
it is not possible to maintain social distancing or the limited number of persons permitted in a location at one time
At this time, the Eastern Division is planning to have a three-day show in April 2021. Please refer to the Eastern
Division website at www.easterntca.com for more details, which will include registration information.
Please allow time for full details to be posted!
Available in G, Standard Gauge, O & S scale Turntables in sizes 24,26,28,30,32 & 34" ( 2 or 3 rail )
also working on a HO scale table to fit the UP Big Boy!
Don't Settle for Less, Buy the Best!
Aluminum: Strong, light weight & doesn't warp like wood!
Select "Bill Me Later" at PayPal Checkout to get 6 months interest free to pay for your order
Note: We Do Not Sell our detail brass castings or Bogies as separate sale items except for our pipe railing stanchions
Also if you purchase one of our tables on secondary market, make sure you get all of the detail castings as all our turntables come with all details
and we will NOT sell them because the one you purchased second hand didn't come with them.
last updated 8/13/2020
---
See our Ads in

---

Our rotary coal dumper is made from aluminum, just like our other products. One button operation. Built in safeguards to prevent accidents . Comes with LED light that
lets operator know when you are good to go with car position to rotate car.
Unlike other rotary dumpers on the market, our dumper can be used with all the manufacturer's rotary coupler cars (Altas O, MTH & Lionel) including mixed manufacturers cars in a single train.
We also designed the rotary dumper to work with scale sized coal, without jamming . Our rotary coal dumper can be used as a stand alone unit or will work in conjunction
with our auto indexing sled which will be coming in the future.
Best of all it is made right here in the USA!
Millhouse River Studio will be adding four new coal industry operating accessories to our line of products.
Next item to be added will be:
1.) Coal Flood loader, so you can load your cars.
2.) Car sled, to be used to auto index cars though rotary Dumper.
3.) Working conveyors, to move material around.
We are now in our 2nd production run of our Rotary Coal Dumper
The rotary car dumpers have been around for decades, dating to back to at least the 1950's if not earlier.
So if you are modeling the transition era on your layout, a rotary coal dumper is perfect for that time era
all the way up to present time. One nice feature is our coal dumper can be installed into your layout top without
having to have it raised about the layout and use trestle, or if you prefer that look you can install it into
a hill and use trestles leading up to and away from it. It's your choice.
Here is a real dumper made by the Heyl & Patterson Co. of Pittsburgh at a coal power plant in PA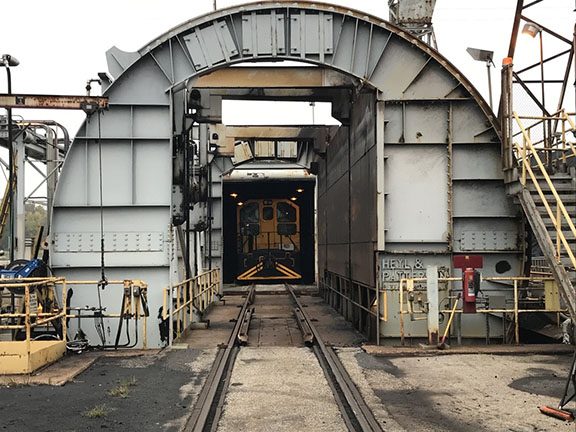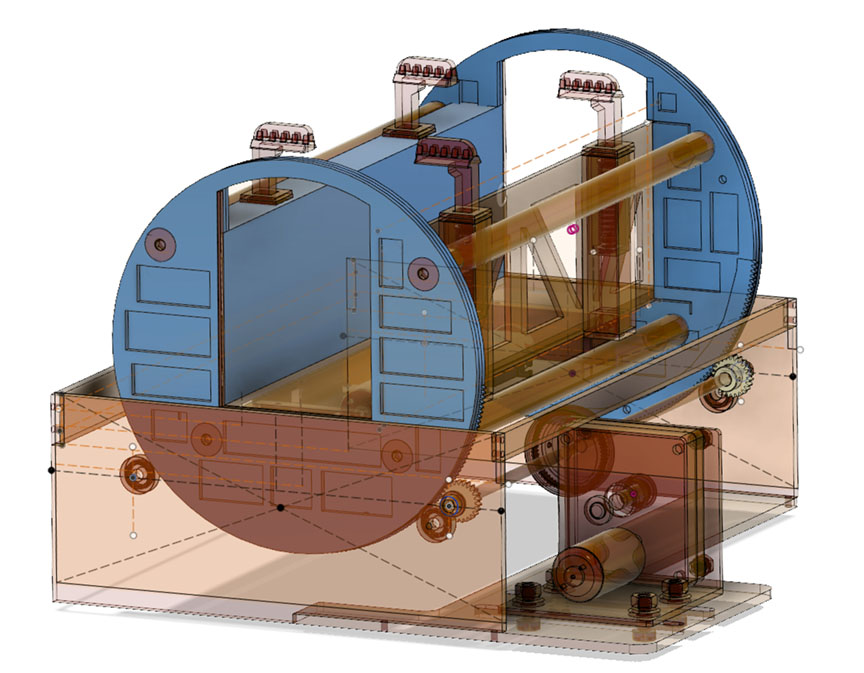 Below are some dimensions to help plan for the dumper fitting into your layout.

Inserts into opening cut into layout top. (Top flange that sits on top of plywood is 12x16" )
Includes cover pieces that have safety railing holes for installing included railing and brass pipe stanchions that go around dumper.
Here is a video of it in operation at the Eastern Division TCA York Meet
Here are two videos by one of our customers, Robert C., of his initial thoughts after receiving his coal dumper and also after installation on his layout.
3 Rail version Price $1355.00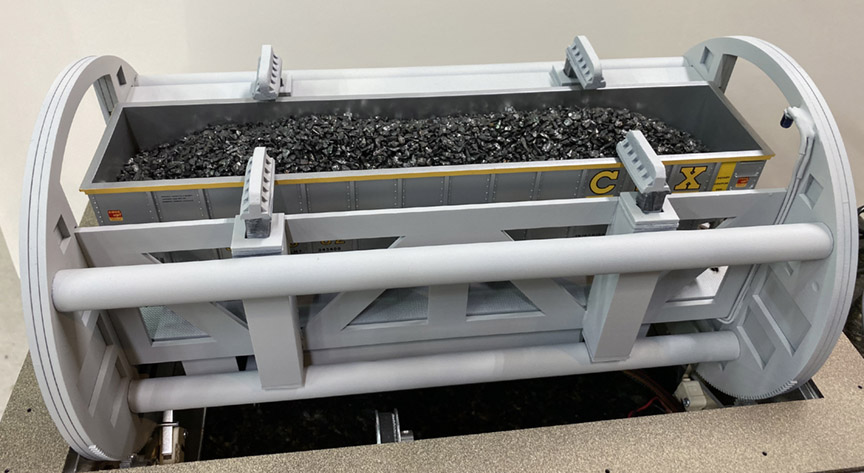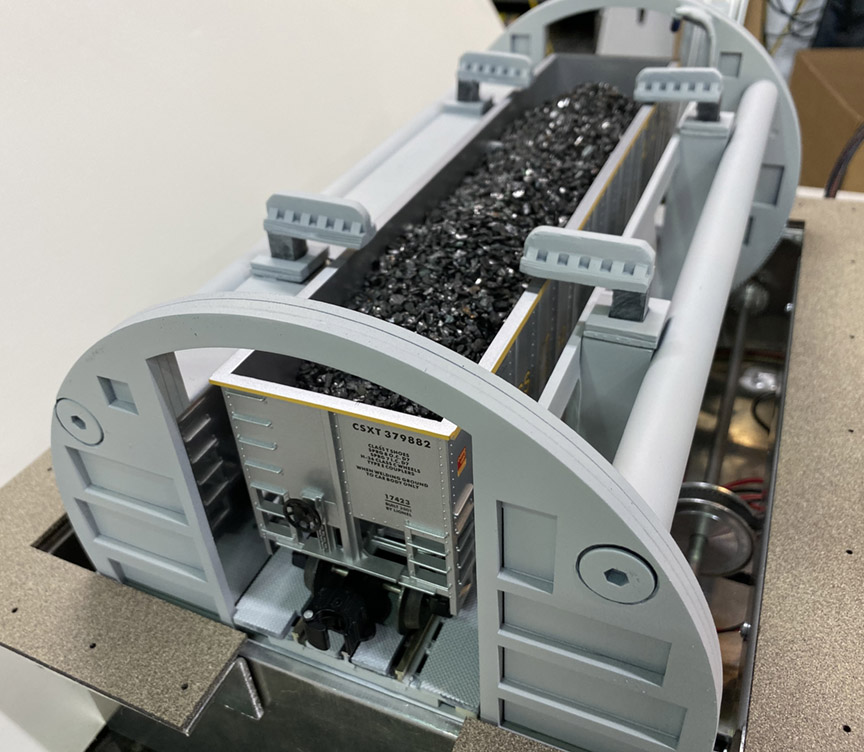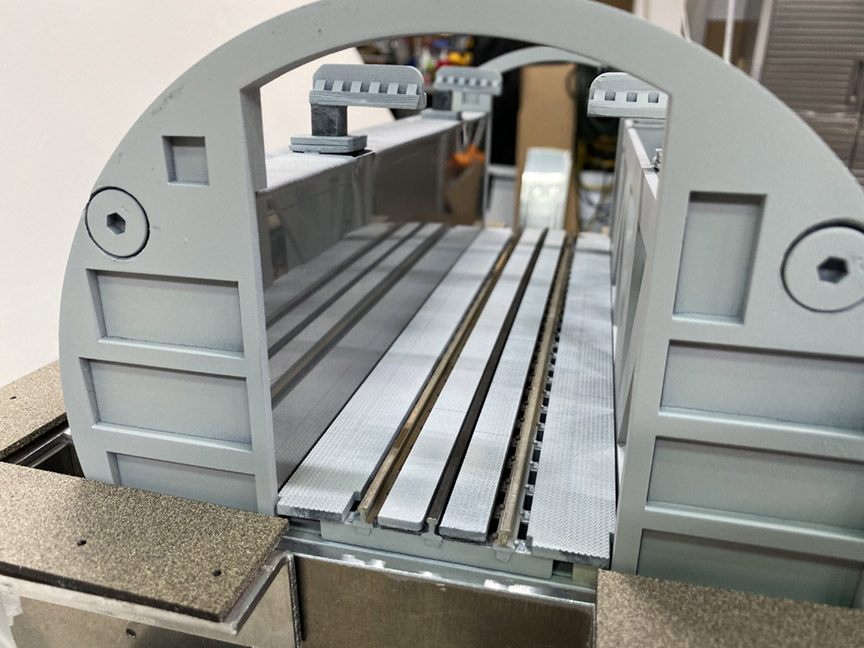 also available in 2 rail Price $1395.00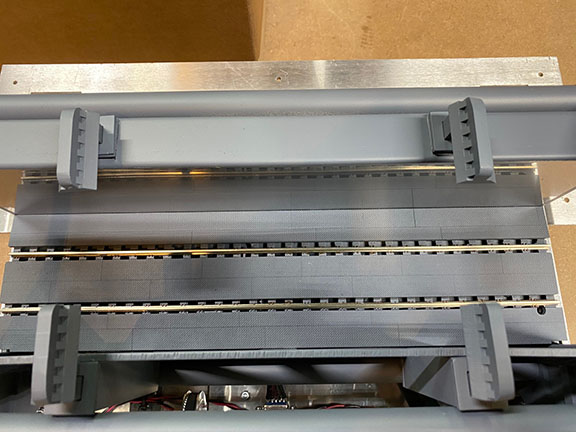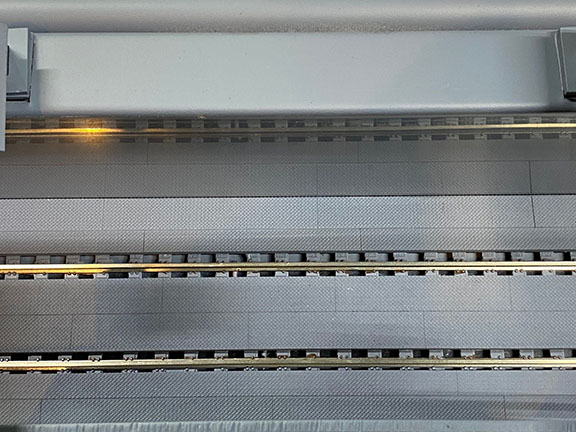 (Dumper orders are built to order and take between 3-4 weeks for delivery)
(place your orders on our ordering page Here )
---
What our tables offer that is far superior to the competition:
1.) Aluminum construction - Will not warp like wood tables.
2.) Brass details - won't snap fine details like plastic parts
3.) Best auto indexing system with over 8,000 positional points to program your whisker tracks to
No more trying to make track plan fit table track spacing (ie. 5, 7.5 ,10 or 15 degrees)
4.) Works with Lionel (TMCC cab 1 , Legacy remote & LCS iPad App) & MTH digital control systems flawlessly !
Link to page for Information on TMCC & LCS control
5.) Small footprint of tables due to construction with aluminum, (No need for huge square top of plywood) plus underside mounting with our mounting tabs.
6.) Most customers can install table in about an hour and be running trains
7.) Easy lift out of bridge with one wire disconnect. Great for when building layout, nothing to damage during construction!
---
Our turntables take the realism to the next level
Here is one of our turntables in action on our customer Norm C's Layout
(Click image below to view video)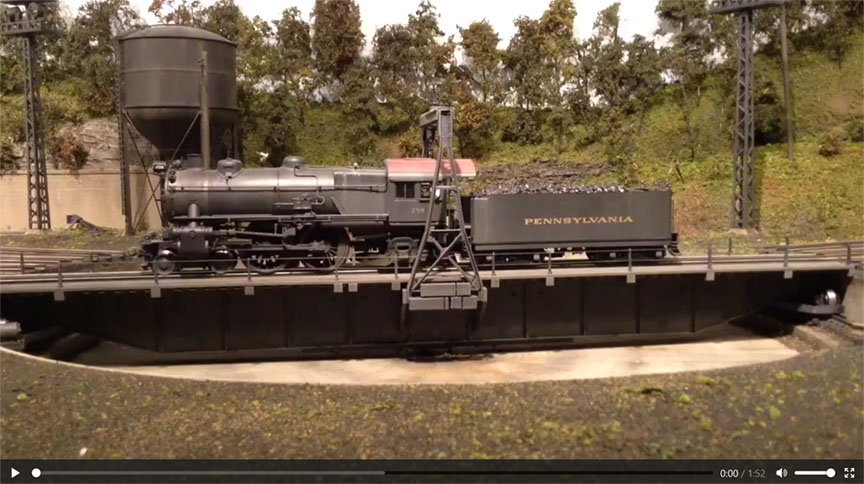 ---
Available option for your turntable or transfer table to super detail your bridge deck and cab

Detail parts pack $25

Made of resin

Includes: Drum controller & Brake lever for inside control cab

Locking levers for bridge deck

Tool Chest for bridge deck

Sand bin that hangs on railing wire at end of bridge for sanding rail

(Available in O & S scale currently)

---
TMCC indexer interface board. (Plugs into Lionel Cab 1 or Legacy command base via DB-9 port) Allows operation of Turntable or Transfer table with indexing to operate by Lionel remote.
Eliminates the need for the use of a Z-stuff - Data Line driver
$25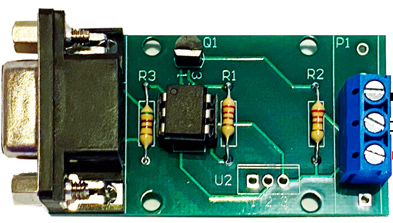 For those wishing to install the keypad into a box. The holes in faceplate are made to fit a weather double gangbox found at Home Depot or Lowe's , Amazon etc.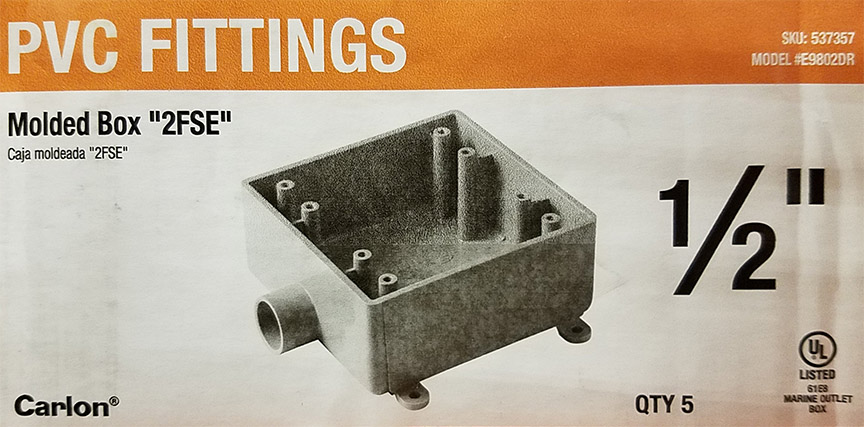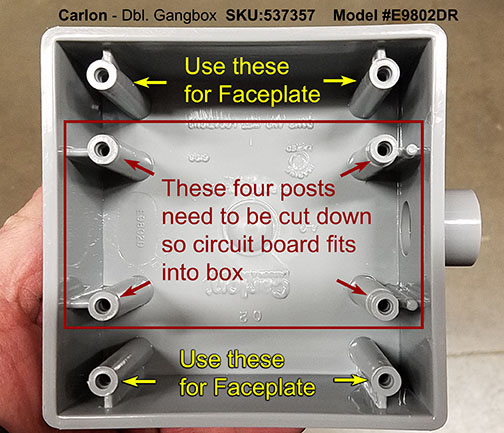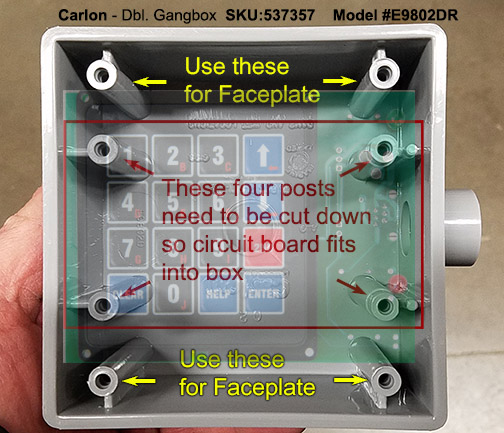 ---
B&M Inspired & Standard Gauge Turntables
(Pricing is same as any of our other upgraded turntable arches )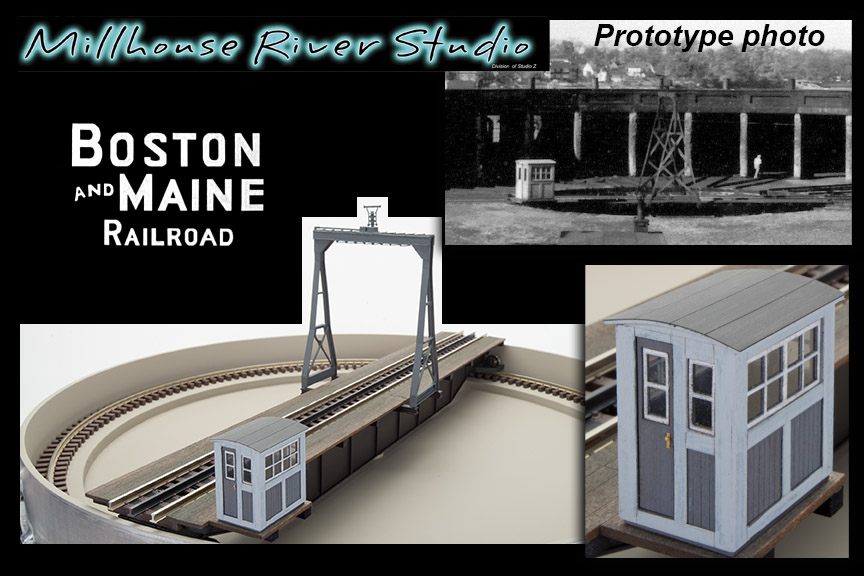 ---
Satisfied Millhouse Customers in 4 Continents!
We have customers all across the USA & Canada & Hawaii, England , Germany, Austria, Norway , Australia, New Zealand & Chili !
Click OGR on-Line Forum button below to see a satisfied customers recent post (1/25/2019)

(Click Here) to see what people are saying about our turntables on OGR
Customer post on OGR ( 12/28/2018) regarding our customer service (Click Here)
Customer post on OGR (10/3/2011) about making his turntable into an access hatch ( Click Here )
Here is what professional layout builder Scott Anderson had to say about our turntables:
" The finest O scale turntables you will find! We have two on the DWP and are very pleased with the look and performance."
An email from one of our many satisfied customers: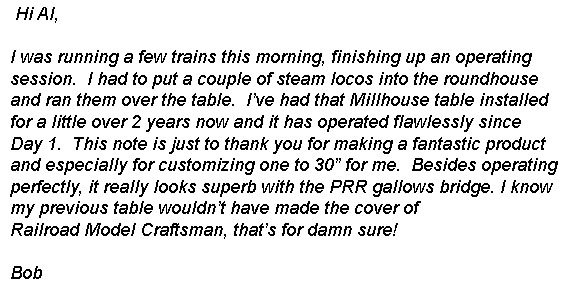 ---
with Industrial Belt Drive train for Smooth Operation!
**Our mounting tabs are set 1.5" down from top of pit wall, allowing for up to 3/4" of plywood and up to 3/4" of soundboard or foam on top of that.
If less is needed you can just shim the difference or use a double nut method when mounting to layout. All turntable sizes only need a 1/2" larger hole than bridge size.
Example a 34" turntable only needs a 34.5" hole in the layout.**
Take a Look at what goes into our Turntables
Click for customer photos & videos
**We offer our turntables with different bridge configurations allowing modelers options to match the railroad they model**
The photos below show the various styles from our standard version to our more road specific models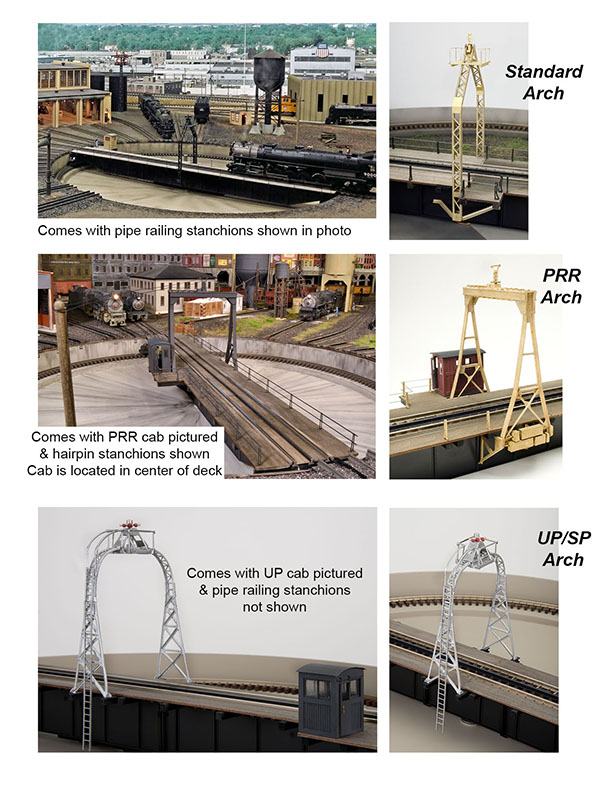 Our 34" Turntable will handle the Biggest of your locomotives.......
Scale Big Boy's, Allegany's , AB or AA Diesel units & even a Scale Pennsy S1 ( weighing 30 lbs) seen below!

Left photo shows our turntable with included detail parts installed. Photo on right shows how the turntable ships. Deck is stained, pit painted & track installed & wired.
Photo below shows turntables lower support, cog gear, motor & integrated motor mount
Below are a few photos of our water-jetted aluminum bogies with brass details
Brass Pipe Railing Stanchions - (now come on our standard turntable & UP/SP models)
Left photo of 3 Rail Track & Deck Right photo of 2 Rail Track & Deck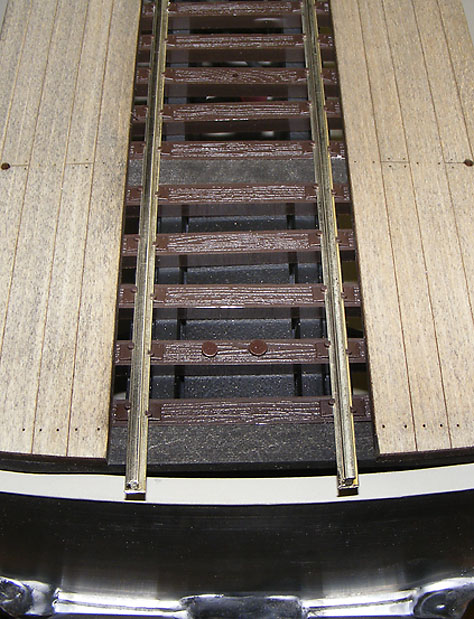 Shown below are available options for your turntable.
Optional Weathering of Turntable pit & bridge deck - $100.00
Photo below shows the different finishes that can be done to our turntables .
Weathering of pit & Bridge Decking ( Give your turntable the in service look, with custom weathering)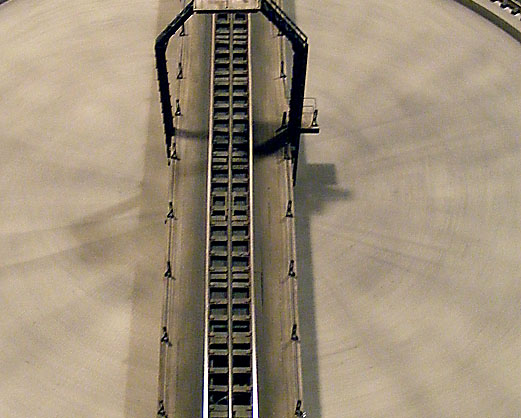 Optional choice of Laser cut cab with LED light for additional $35.00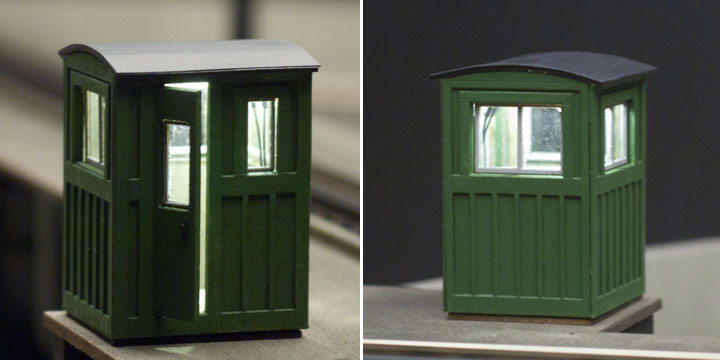 A couple of videos from Eric's Trains video train blog of replacing an Atlas turntable and installing and operating our turntable
This 24" turntable also has our auto indexing system.
Episodes 44 & 45
Here is a video of a customers 3R PRR Turntable with our auto indexing
The following power supply we recommend for use with our turntable for manual control, if you don't already have a 12VDC variable power supply.
This power supply is not necessary if you opt for our auto indexed table
Railpower 1300 DC Transformer made by MRC
---
Transfer Table
Bridge length is 28"
(Bridge will accommodate all scale diesel engines & scale passenger cars like prototypes were used)
These have aluminum construction & brass pipe railing stanchions , prototypical correct pit depth & bridge deck with multiple rails in pit bottom, Laser cut deck & cab
Same smooth drive as our turntables for reliable operation
Photograph of real Transfer table we used for reference for our model
Photograph of Production unit below
Transfer table can allow for 5 - 7 tracks on each side of table depending on track spacing
Can be operated manually (line up by eye) or with our auto indexing system for the most realistic operation, simulating the drum controller speed steps like the prototype.
The mounting tabs are 1.5" down from top of pit wall to top of tab to allow for different thickness of layout top materials.
Dimensions 24 7/16"(W) x 28 3/4"(L) x 6"(D)
Original Wood deck and cab version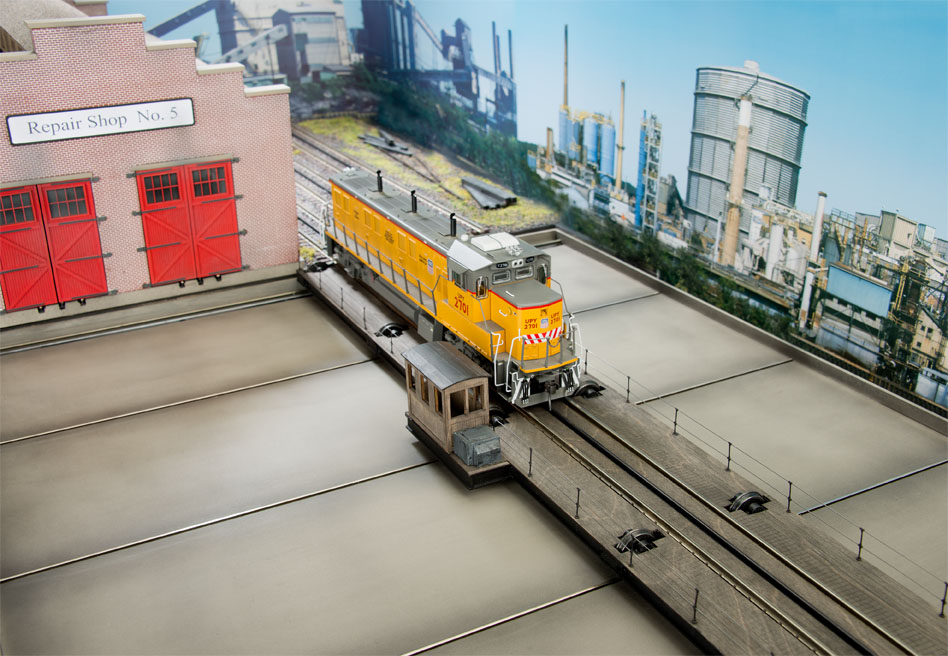 New Diamond Plate Deck & Riveted Cab Option $100 Upgrade
This new diamond plate is etched on our laser and we have also added the plate seams to the decking also for added realism!
Now you can model steam era or get the diamond plate version for modeling modern diesel era.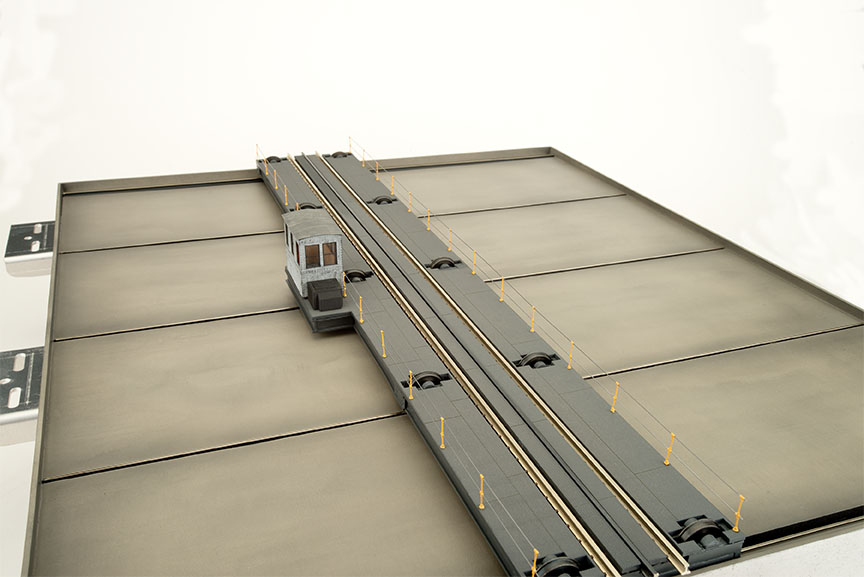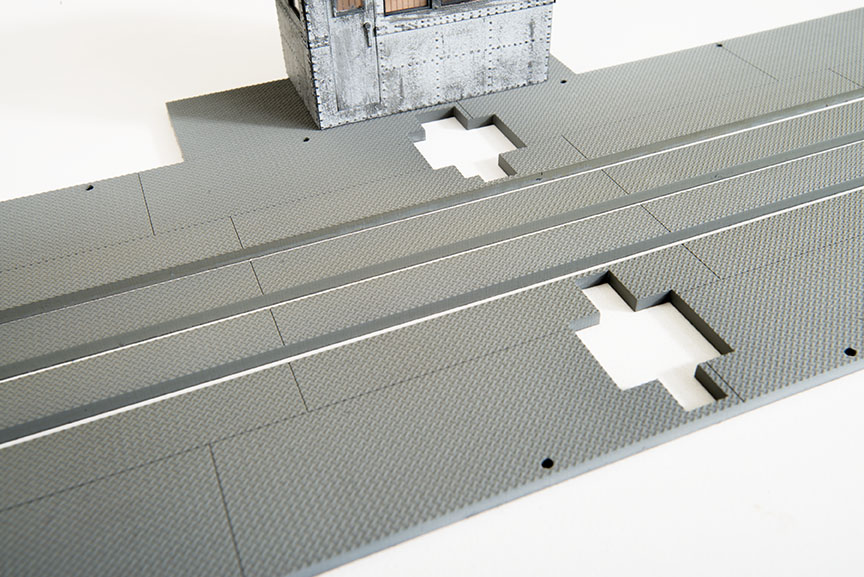 Below shows our standard concrete color finish and our optional weathered finish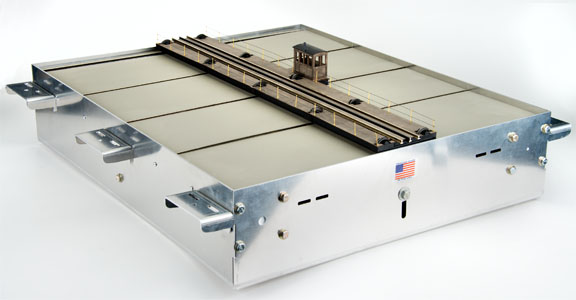 Photo of Laser cut cab & deck details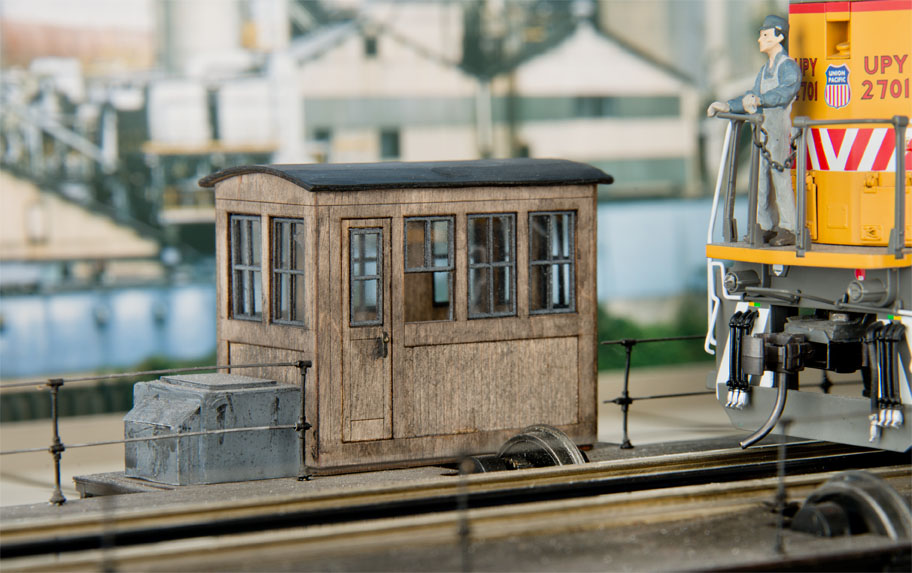 See demo video of it and our transfer table in action below. This also has our index system installed.
---

---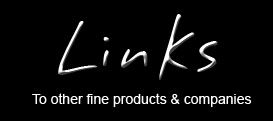 ---
We stand behind all our products and are here to serve our customers
---
All Images except for recommended products are Copyrighted by © Studio Z Photography 2009-2020
Clipart courtesy FCIT